10 月 18 日,微软与 Dassault Systemes 共同推出 3DVia:
REDMOND, Wash., and PARIS — Oct. 18, 2007 — Dassault Systèmes (DS), a world leader in 3-D and product life-cycle management (PLM) solutions, and Microsoft Corp. today launched Microsoft® Virtual Earth™ -3DVIA (Technology Preview). This free online application, developed by Dassault Systèmes, allows consumers to imagine and create realistic 3-D models — such as of buildings and structures — then share them through Microsoft Virtual Earth and online communities.
3DVia 是一款免费的在线应用,由 Dassault Systèmes 开发,允许用户想象和创建 3D 模型,如:建筑和结构,并通过 Virtual Earth 和在线社区共享。其实 3DVia 已经在 16日的时候上线了,在微软 Live Search Maps 公告中有暗示:
Innovative visualization and 3-D. Coverage of bird's-eye and 3-D imagery has been increased to cover 80 percent of the U.S. population. In addition, nearly 200 complete cities are available in 3-D, and customers can now combine views of 3-D imagery with Live Search's unique 45-degree bird's-eye images, giving a complete and detailed geolocation experience. In addition, people who use Live Search Maps can create and share their own 3-D models of buildings through an alliance with Dassault Systemes.
在安装 Virtual Earth 3D beta 之后,点击 3D 视图,然后在 Coolections 菜单中点击 Add a 3D Model,然后你就可以安装 3DVia 了,或者直接下载在线安装程序。
界面非常简单,很容易上手,制作完 3D 模型之后,保存,然后以 Collections 共享。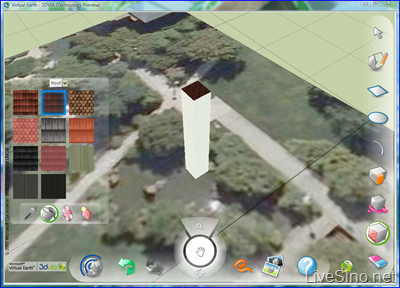 LiveSide: Microsoft and Dassault Systemes announce 3DVia – again