在西班牙巴塞罗那举行的 Mobile World Congress 2008 会议上有相当多的新闻。首先是,MSN Direct 发布了 Windows Mobile 技术预览版,根据官方的新闻:
With this technology preview, customers can receive instant access to information such as weather and stock updates; top news stories; and entertainment, sports and business news. The information is presented in a glanceable format, and is easily accessible directly from the home screen of a device. Content is automatically updated so that customers have immediate access to the content that matters most to them.

"This is the first time MSN Direct content has been made available to mobile phones, and it is a strong next step for the delivery of MSN Direct content where customers have said they need it the most," said Eric Lang, general manager of the MSN Direct initiative at Microsoft. "We are excited about the opportunities this new application will bring to mobile operators, consumers and the industry."

After installing the technology preview on the device, customers can select content based on relevancy and preference. For more in-depth information on the topics a person is exploring, MSN Direct provides links that connect users to the relevant areas of the popular MSN Mobile portal. Together, MSN Direct and MSN Mobile provide users with quick and easy options for getting current information while on the go.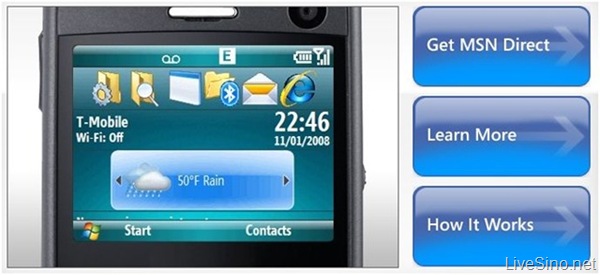 Windows Mobile 技术预览版 MSN Direct 是免费的,不过下载需要支付流量费用(如果没有订制上网套餐的话)。你可以通过 Windows Mobile 设备访问 http://phone.msndirect.com 根据提示安装,或者通过电脑访问 http://www.msndirect.com 了解更多信息,以及下载安装包安装。
LiveSide: News from Mobile Congress 2008: MSN Direct; Danger acquisition; Sony Ericsson deal, and a Windows Live Mobile Dev announcement, whew!